GET TO KNOW OUR PARTICIPATING COMPANIES
Read more about the companies participating in the next Axplore program. What do they do and what is it like to be a trainee there?
COMPANIES PARTICIPATING IN AXPLORE #3
Already from the start of the program, you will be employed by one of our participating companies. This will be your home organization where you will spend the first six months of the program and also where you will find your next role after the program ends.
Below you can get to know this years participating companies much better!

AXEL JOHNSON INTERNATIONAL
Axel Johnson International is a global industrial group that acquires and develops companies in strategically selected niche markets, primarily technical components, and industrial process solutions. The group comprises 170 companies in 30 countries, organized in six business groups and we are headquartered in Stockholm, Sweden. Axel Johnson International is part of the Swedish corporate group Axel Johnson.

As a family-owned company, Axel Johnson International has a fast-changing, value-driven, and entrepreneurial culture. From a long-term and financially stable platform, we create possibilities for our people and companies to grow and develop. The employees are our most valuable resource, and we strive for a diverse workplace with a variety of backgrounds, knowledge, and experiences. Our core values are evident in everything we do and are an important guide for our companies and employees: Being far-sighted - Making things happen - Being good to work with.
AXFOOD
Axfood is a leading food retail group in Sweden and the second largest player in the Swedish food retail market with a market share of approximately 20%. We are a family of distinctive food concepts that rest upon close collaboration. Our vision is to be the leader in affordable, good and sustainable food. Each week we reach 4.5 million customers trough our businesses, giving us an unique opportunity to create higher quality of life through our concepts, operations and brands.
As an Axplore trainee at Axfood, you will conduct your internship and reach your final destination at one of our concepts within the Axfood family for example at Hemköp, Willys, Snabbgross, Middagsfrid, Dagab or Axfood AB. We will match your competence and aspirations with our needs during the internship period.
DUSTIN

Dustin is a leading online IT partner in the Nordics and the Benelux. We help our customers to stay in the forefront by providing them with the right IT solution for their needs.
We offer approximately 280,000 products with related services to companies, the public sector, and private individuals. Sales for the financial year 2021/22 amounted to approximately SEK 23.6 billion and more than 90 per cent of the revenues came from the corporate market.
Dustin has approximately 2,500 employees and has been listed on Nasdaq Stockholm since 2015 with headquarters in Nacka Strand just outside central Stockholm.
As a trainee at Dustin, you get a unique opportunity to experience one of the leading online IT partners in the Nordics and Benelux from the inside. You will get an understanding of the different business processes and gain valuable insights about how to drive business value in a constantly changing environment.

You will get the chance to develop your competences while participating in exciting projects and initiatives, moving Dustin further on our strategic journey to become a European IT powerhouse. You will develop new skills and get the opportunity to learn and try out new things. As a trainee at Dustin, we believe you bring a lot of competences and knowledge, and you will take part in both strategic, tactical, and operational decisions.

With a proactive "can do" attitude, you will get the toolset needed for a successful career in a leading online IT company, where we keep things moving. Together.

At Dustin, we believe our colleagues are the key reason for our positive development. We are an IT partner in constant movement and with that comes many opportunities for us to develop and grow together. We are part of an exciting transformation journey and as a Dustineer, you have the chance to make an impact that matters in a company with a strong focus on sustainability.

We believe our development is what gives you the possibility to grow. That is why we can promise you one thing: You keep us moving. We keep you moving.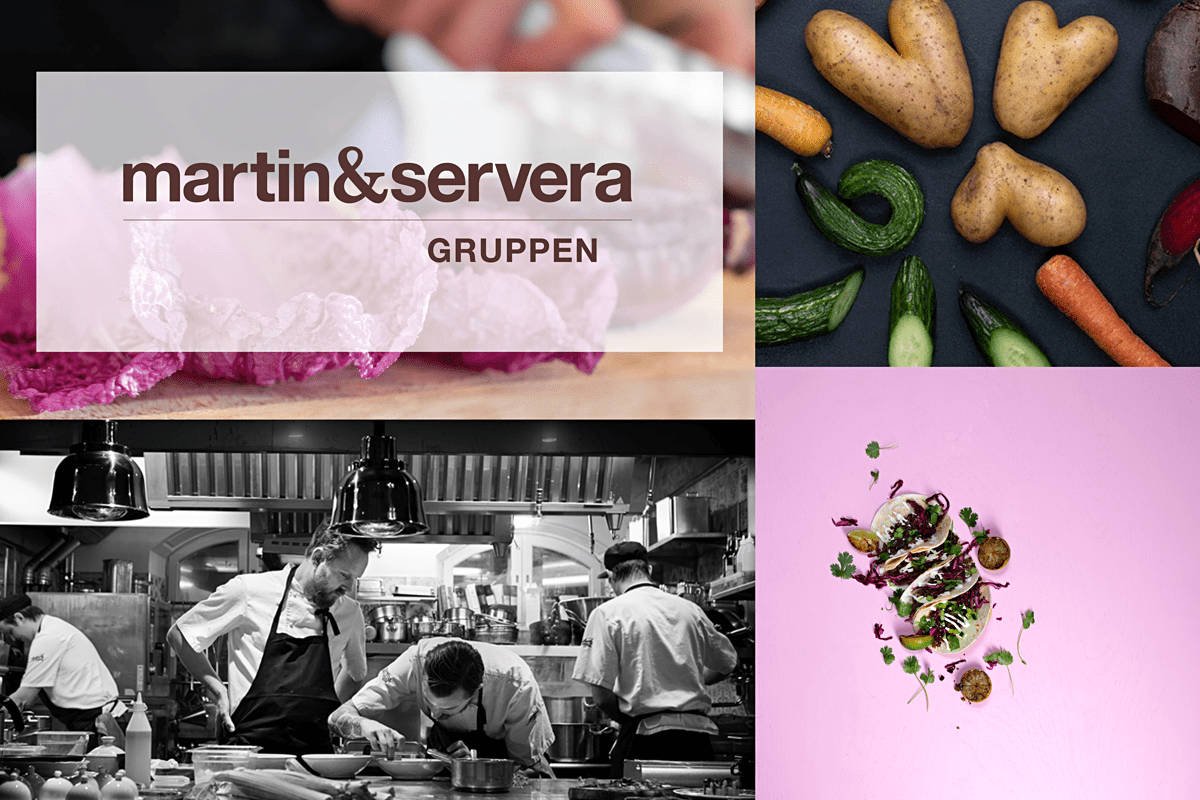 MARTIN & SERVERA
Martin & Servera is Sweden's leading restaurant and catering specialist. Today we have just over 3,000 employees and offer raw materials, equipment, drinks, services, and training to our customers, which consist of everything from large restaurant and hotel chains to schools and hospitals. From Sweden's most starred restaurants and the smallest local bakery. Our roots stretch back over 100 years. Martin & Servera Restauranghandel offers a wide variety of products and services for the wide range of customers we serve. Complementing this is our specialist companies - world-class fresh produce from Sorundahallarna and a leading range of beverages from Galatea.

The companies within the Martin & Servera group have a common vision – to be the restaurant's best partner. An important part of this is our sustainability work, where we aim to be completely climate-neutral by 2030. Some of our priority areas within sustainability are food waste and energy efficiency. We have one of Sweden's largest electric vehicle fleets for heavy traffic, we have our own solar power facilities at our warehouses and in May 2022 our own solar power park in Skåne was inaugurated. The energy produced by the solar park during the spring and summer corresponded to 75 percent of the total electricity consumption for Martin & Servera group during these months.

Reducing food waste is a high priority for us and we are working hard to reach our goal of halving our food waste by 2025. We constantly try to optimize processes, such as purchasing routines and inventory to reduce waste, and have collaborations with Stadsmissionen in various locations, Räddningsmissionen in Gothenburg, and Karma, among others. In four years, we have reduced our wastage by 16 percent, which in actual figures corresponds to 210 tons.

As a trainee at Martin & Servera, you will work on exciting projects that develop our business. You will get thorough support in your future residence – the business development team – where you become part of a small close-knit group that is characterized by trust and inclusion. There is a common aspiration and willingness to do their best so that the group as a whole succeeds. You work centrally and thus in a social and varied environment, which means that you get to know the organization quickly.

Martin & Servera is characterized by an inclusive and open climate. Our belief is that having employees who feel safe, can be themselves and enjoy their work is what forms the basis of success. There are many of us in the organization who share a common interest in food and drink in all its forms and we operate in an exciting industry that is constantly developing. With short decision-making paths and a common desire to be the best partner to our customers, you will become part of an organization where success is created together.
NOVAX
Novax is Axel Johnson's investment company with a mission to contribute to Axel Johnson's future. Novax invests in small and medium-sized growth companies that are primarily active in the sectors: Health & Wellness, Technical Security, Food of the Future and Digital Infrastructure for Retail. We have 28 portfolio companies employing more than 6,600 people. Our portfolio includes companies like Bruce, STC, Aquadental, Personalkollen, Gårdsfisk, Filippa K and many more. We are active, long-term owners who focus on growth and contribute with industry knowledge, networks and an ecosystem that provides practical support. A common denominator for our companies is their ability to in various ways contribute to a better society and create sustainable value in the long term.

The Novax trainee will get a unique opportunity to catalyze their career by getting a leadership position in one of our portfolio companies at the end of the programme. The trainee will have their first placement (first six months) with the Novax team where they will develop a technical and strategic toolbox and gain exposure to a wide range of tasks and projects to develop them as future leaders of our portfolio companies. After the exhange period is over and the trainee program ends, the trainee will be placed in a permanent position in one of our portfolio companies based on their skill set and ambitions!